Music
Review: Yamaha FG730s – good sounds at a good price?
I'm intrigued, excited and cautious about reviewing this guitar.
Yamaha's FG series has been around since the 60s, and they claim that it's the best-selling acoustic guitar of all time. At the expense of putting a downer on that, I can't find a source for the claim.
I'm a fan of full-size dreadnought guitars, and I like Taylor Swift's signature model three-quarter size guitar, and this Yamaha FG730s has a very unusual shape and size that sits somewhere between both of those.
What will that even mean for the sound? Is it going to be weird to play? Stick with me. We're about to find out.
Yamaha FG730s: Core specs
There's nothing too surprising about the specs of the FG730s. Apart from the neck material, but we'll look at that shortly.
It comes in a decent range of colors, that should keep those who find aesthetics important happy. It all looks like a very regular beginner-intermediate level guitar.
Natural
Tobacco Brown Sunburst
Vintage Cherry Sunburst
| | | |
| --- | --- | --- |
| What body style is it? | | Small-bodied dreadnought |
| What top wood does it use? | | Sitka spruce |
| What body wood does it use? | | Rosewood |
| What wood is the neck made from? | | Nato |
| What wood is used for the fingerboard? | | Rosewood |
| How many frets does it have? | | 20 |
| Does it have electronics? | | No |
| Dexterity? | | Right-handed only |
Yamaha FG730s: Parts
The part of the spec list that caught my eye was the nato neck. What even is that?
Full disclosure: I had to check up on it. Nato is a wood from the Mora family of trees. It gets used by lots of guitar manufacturers because it's similar in color and density to mahogany, even though it's completely unrelated.
So there you have it. Although it's apparently difficult to work with, it looks the business and isn't endangered, so I guess that means that anybody can use it at will.
Beyond the little bit of excitement generated by that, there's very little else going on with the parts of the FG730s that makes it worth getting too excited about.
I say that, but there are a few little subtle design features – predominantly aesthetic – that put it somewhat above other guitars of a similar price. I'm looking at the binding on the headstock, and along the neck, as well as the abalone rosette, at the tortoiseshell pickguard.
OK, maybe it's a little bit fancy.
The machine heads are unbranded. It's most likely that they're the generic ones made in the east, and used on every budget guitar on the market. That sounds negative, but a closer inspection – and by 'closer inspection,' I mean 'poking and prodding them,' they seem decent. Not Grovers or anything, but they're not rattling, and should hold tune.
---
Yamaha FG730s: Construction
The construction of the FG730s is industry standard X-bracing. No surprise there. You're not going to get revolutionary innovations in guitar design at this price.
The neck is attached to the body using a dovetail neck joint. It looks very clean and tidy. Yamaha frequently highlights the craftsmanship of their instruments in their literature, and based on this initial assessment, it looks like praise that's well-deserved.
Looking down the length of the neck, and everything looks spot on. It all looks straight and even. I can't make out any kind of warping, dents, or dings that cause concern. Examining the frets themselves more carefully, and they all look cleanly and tidily embedded. You really notice how great the binding looks up close. Beautiful!
In the last 15 years or so, the quality of eastern-made guitars has been noted as greatly improving. Yamaha, as well as Epiphone I would say, have been leaders in consistently trying to improve the perception of such guitars.
---
Yamaha FG730s: Tones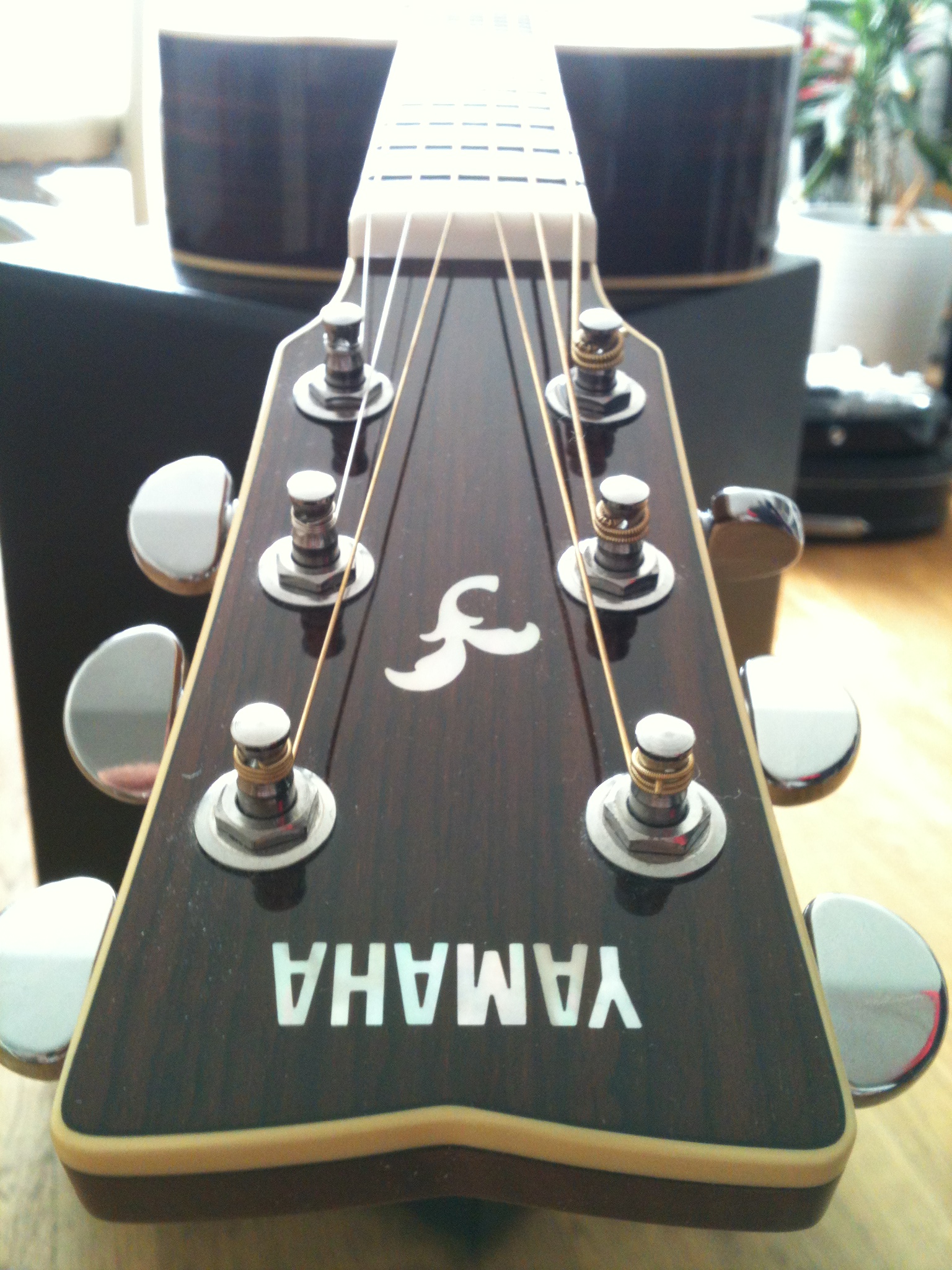 It's always interesting to find words to describe the experience of playing an acoustic guitar. Whereas with an electric guitar, I'd be able to talk about the amp and settings, that's just not a thing with a regular acoustic!
I should probably say that I used a 1mm pick, and the room I was playing in for the review was a pretty average sized living room. It had a wooden floor, but plenty of curtains and furniture that would help dampen what might otherwise be an echoey and harsh-sounding experience.
And hey, with this guitar, it's likely the kind of room that somebody buying this guitar would be playing in.
I found the sounds of the guitar balanced. Everything rung out equally, to my ears. The treble strings weren't too trebly, like you get in quite a few acoustic guitars, nor were the bass strings to bassy. This is a good spot for it to be in: a good all-rounder. If you're going to have this as the guitar you have out and about, it will serve you well.
I was intrigued by what the smaller-bodied dreadnought might sound like. The main thing really is that it isn't as loud. This makes me think the FG730s might be handy as a busking guitar, because it'll be easy to sing over, or even just for taking the mantle of "that person with a guitar at a house party."
It lacks the more pristine clarity of more expensive guitars, but for the price tag that's attached to it, you really can't complain. I'd be comfortable using it for recording some demos.
---
Yamaha FG730s: Playability
It's smaller stature and pleasant sounds all point at this being an immensely fun guitar to play.
And when a guitar is fun to play, that's what will keep its owner going back for more. It's difficult to verify the playability of a guitar more than that!
Following on from the tones discussed in the last section, I think in considering the playability of the FG730s, those tones, and its size and the generally fun nature of its use, you can apply it to a lot of scenarios: houses, road trips and recording sessions are the ones that spring immediately to mind. It's just the kind of guitar that you can bring anywhere.
The size was one of my early concerns, but it's actually very comfortable to play, sitting or standing.
It's disappointing that it doesn't come in a left-handed model. I mean, obviously lots of guitars don't have leftie counterparts, but if this is the best selling acoustic guitar of all time, as claimed by Yamaha, surely that'd a claim southpaws would want in on?
---
Yamaha FG730s: Conclusion

Overall, I was very impressed with the Yamaha FG730s. I had mixed feelings before starting the review, but having been through it, I feel like I "get it" a bit more.
I think the thing I understand most about its popularity is its versatility. It's ideal for busking or house parties or camp fires, recording sessions and generally bringing on the road for travelers or road trippers.
It's certainly not the only model around, and, as always, budget is an important determining factor in guitar purchasing, but this offering from Yamaha is certainly worth taking the time to look at.
However, between the solid construction, the warm sounds, and the variety of finishes available, I can't see any reason why this shouldn't be a contender for your guitar dollars.