Music
Review: Epiphone Hummingbird PRO – is it right for you?
Every guitarist, so matter how cool they think they are, needs to have at least one acoustic guitar in their arsenal.
I first got an Epiphone Hummingbird almost ten years ago, and it became my "always out" guitar – the one that's always on display in my bedroom or living room. It's probably because of that, that it also became my main songwriting guitar.
Before we begin, make sure you're ordering Epiphone from a legitimate retailer, NOT from a counterfeit seller. For your convenience, here is the Amazon link to an authentic Epiphone retailer.
Its big mellow, warm sound has also made it a staple part of any recording that required the presence of an acoustic guitar.
In more recent times, Epiphone have released the Hummingbird PRO, that takes the classic Hummingbird, and equips it with some electronics, so I wanted to take a look at that, compared to my old standard one.
---
Core specs
A quick overview of the Hummingbird PRO's specs doesn't reveal any major surprises.
In fact, it's probably safe to say that it's the aesthetics that make the Hummingbird an attractive guitar. Look at that pickguard! And the cherry sunburst finish! That's where iconic guitars come from: there's never any mistaking the sight of a Hummingbird onstage.
| | | |
| --- | --- | --- |
| What body style is it? | | Full size dreadnought |
| What top wood does it use? | | Sitka spruce |
| What body wood does it use? | | Mahogany |
| What wood is the neck made from? | | Mahogany |
| What wood is used for the fingerboard? | | Rosewood |
| How many frets does it have? | | 22 |
| Does it have electronics? | | Yes |
| Dexterity? | | Right-handed only |
Parts
The most outstanding thing in terms of the more standard parts on this, is the use of Grover machineheads. This seems to be a standard feature across Epiphone guitars, and good for them. It's such an important feature, and definitely the best feature for getting something better than generic, unbranded parts.
The prettiest guitar in the world isn't worth a thing if it can't stay in tune!
With the Hummingbird PRO, one of the key features it sells itself on is its electro-acoustic functionality. It comes equipped with an ePermormer preamp and Nanoflex pickup, courtesy of well-established manufacturer of electro-acoustic parts, Shadow. Again, it's good that Epiphone opted to get specialists in such matters in for this.
A sitka spruce top on an acoustic guitar is as standard as standard can be, and there's nothing exciting or outstanding about the use of mahogany and rosewood for the sides, neck and fingerboard either.
In saying that, these Epis are made in Korea. When Gibson buyer is shopping for tonewoods, and working out the distributtion for what's going where, you can guarantee the cheaper cuts – e.g. the lower quality – will be designated for Epiphone. The better ones will be going to the US for Gibson guitars.
I appreciate that sounds quite negative, but Epiphone is still a Gibson company, and they'll have sufficient brand management in place not to risk their reputation by using wood so cheap and awful that it sounds bad.
---
Construction
Epiphone have never had an issue with construction quality, and the Hummingbird PRO is no different. They're a brand that have managed to successfully keep up with the increase in quality from the eastern-made guitars that's happened on the pat 10 to 15 years.
The neck joint is a traditional affair, and there are no scratches, blemishes or unsightly glue residue around it. The finish all around the body looks spot on. It's got a nice shiney finish, and that lovely new guitar smell!
Looking at the neck and fingerboard, it comes with a nice strip of binding that looks great, and running my finger along it, it's perfectly smooth, and shouldn't cause any problems or discomfort during playing.
I know some players will find the split parallelograms a bit much – too flash for some I think! Personally, I think they look the business, and demonstrate a higher level of craftsmanship than regular dot inlays. The frets look great, with a very tidy finish.
Moving up the neck, and looking at the headstock. There's a simple truss rod cover, and the usual crown inlay in the middle. The Grover tuners all look spot on, and giving them a jiggle and a poke with my finger, they don't budge in the slightest. You can't really ask much more than that!
---
Tones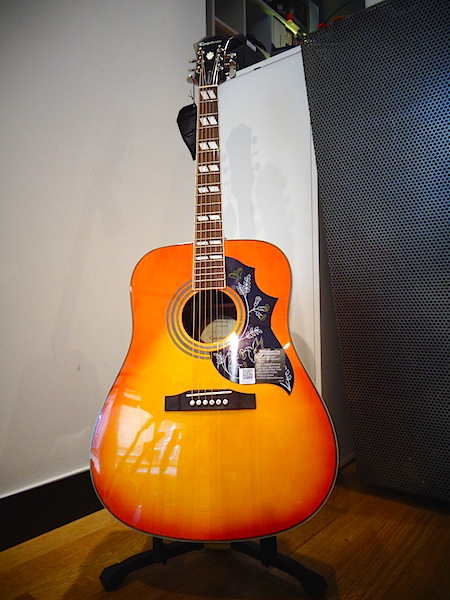 I love the sound of the Hummingbird. The Gibson version is massively popular for a reason with pro guitarists, and I really can't see why those of us on a budget would be in any way disappointed with the results from Epiphone's version.
The reason the Hummingbird's sound is so popular is how rounded it is. It's just very well balanced: not too bright, not too heavy. Obviously, what strings you're using and how old or new they are will influence things, but that's generally where the tone sits.
Moving away beyond the balance of the tone, and thinking about its more general character, it's definitely got a mellow warmth to it. If you're more familiar with electric guitars, think of it as an acoustic equivalent to a Les Paul.
Plugging into a PA system to see what its electronics are like, and it's not bad at all. I mean, it's not bad, but it's hardly going to be the same as the pure tone of hearing it straight up, or even miced up with a decent microphone. Guitars like this will always lose some of the character of their natural acoustic sound when you plug them in.
When you're playing a show and you plug in your electro-acoustic, you're mostly in the hands of the sound engineer, so some gigging advice: always be nice to them, get them a beer, and they'll make sure you sound as good as possible!
---
Playability
I was happy with the playability of the Hummingbird. I think the action is a little higher than some guitarists would like, but if it's that much of an inconvenience, it's not the most expensive fix for a guitar.
I found the neck smooth, and even in its natural acoustic state, without being plugged in, I felt in control of its volume. As somebody who sings along with their playing, I found that unplugged, I could sing comfortably over it.
The tone of the Hummingbird makes it a very versatile guitar, so I would be happy pairing it with any style of music. If a death metal track needed an acoustic guitar, I'd go for a Hummingbird!
This is also one of the key reasons why it's great for an early intermediate guitarist, somebody who's still finding their sound and exploring playing styles, where it could go any direction. It's as well to have an acoustic on board that'll work whatever direction your playing goes.
---
Conclusion
I'm a fan of the Epiphone Hummingbird PRO. It'd work best for intermediate guitarists, looking for a good all-rounder for casual playing and songwriting at home, but that can also do the business for recording sessions and live shows.
If you've been learning to play and have tired of your beginner acoustic, and you're looking towards an upgrade, it's certainly a worthy model for consideration. Its big, warm, mellow sound should leave you ready for anything in terms of style.
It's got looks, comfort and sounds. You can't ask for much more than that!